We've teamed up with our friends at Club W for 3 amazing date nights. Take one of their favorite bottles and pair it with Wantable's intimates box for a fantastic, fun, and flirty night!
MOVIE NIGHT
Grab some comfy pjs, your honey, and head to your Netfix account for a movie (or let's be honest, House of Cards) night!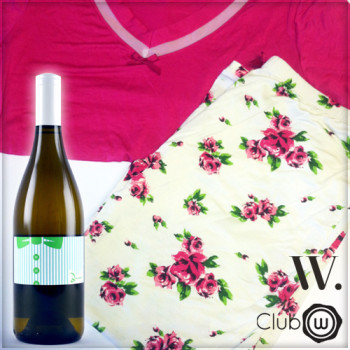 What to drink:
2010 Dandy Chardonnay
Like the 18th Century refined gentleman that inspired the term Dandy, Dandy Chardonnay is a refined and balanced arbiter of the white wine world. Offering a bit of oak, a spread of butteriness, and snappy citrus flavors, Dandy tips its hat to a creamy, vanilla finale. You'll want to roll out the red carpet for this fine-mannered bottle and match it with a . Oscar Wilde – the most famous dandy of them all – once said "the only thing to do with good advice is to pass it on." We agree. This is an outstanding bottle. Pass it on.
What to eat:
It isn't movie night without popcorn! To add a little pizzaz to an old favorite, try seasoning tips curtosy of The Food Network! Below are a couple of our favorites!
Ranch: Melt 4 tablespoons butter with a 1-ounce packet ranch seasoning mix; toss with 16 cups hot popcorn and 2 tablespoons chopped chives. Season with salt.
Garlic-Herb: Melt 4 tablespoons butter in a saucepan; add 4 grated garlic cloves and 1 teaspoon each finely chopped fresh rosemary, sage and thyme and cook1 minute. Drizzle over 16 cups hot popcorn and toss with 2 teaspoons kosher salt.
What to wear:
Whether your movie is a chick flick or action-packed, your sweetie will love snuggling up with your delicate, soft and cuddly Per Lei Intimates Metropolitan Lounge set.
DESSERT FOR DINNER
Because why not?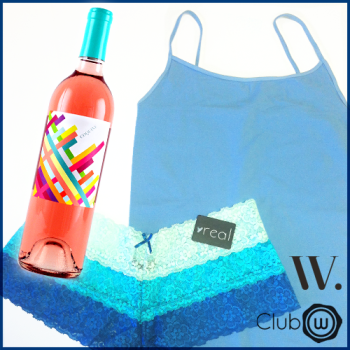 What to drink:
2013 Coquine Rosé
Mischievous, coy, and a little bit naughty, the Coquine Rosé is a cheeky little minx. Don't be fooled by her cotton candy-hued blush, this Grenache-based rosé has juicy, wild child strawberry and cherry flavors that come with a devilishly dry finish. She'll flirt her heart away.
What to eat:
This rosé goes perfectly with strawberries. Sure, you could probably find a dinner recipe that incorporates strawberries, but part of the flirty fun is enjoying dessert for dinner! Follow any of the below recipes for a delicious strawberry-inspiried treat!
– Chocolate Covered Strawberries
– Strawberry Shortcake
– Strawberry Rhubarb Pie
– Strawberry Ice Cream
What to wear:
There's nothing like bopping around the house in your boy shorts and tank top! We're loving this Nikibiki tank and undies from Real Underwear.
SEXY & SPECIAL
Sometimes the special occasion is just because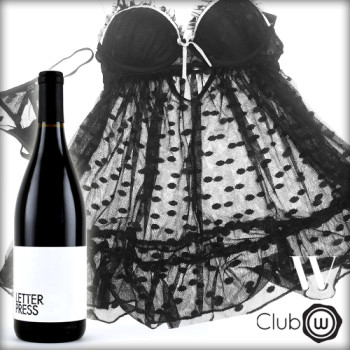 What to drink:
2013 Letter Press Pinot Noir
Luxurious and chic, Letter Press is a powerful and ripe Pinot Noir that packs a punch of refined fruity flavor (Hello, 16.1% ABV!). One whiff of this sister from Santa Rita will have you thinking cherry compote, fennel and violet, while a sip delivers buckets of fresh cherries and an elegant earthiness. Her silky smooth texture rounds out the finish thanks to an aging in neutral oak barrels. Letter Press would be an excellent accompaniment for any masterfully crafted dish, but we can't get the idea of juicy pork chops with grilled peaches out of our heads.
What to eat:
This wine goes perfectly with pork chops and grilled peaches (trust us on this one!). Try this recipe from the New York Times for delicious dining experience.
What to wear:
After your savory dinner, you'll be looking for something sweet. Slip on a little baby doll like this one from Rene Rofe for a little after dinner fun!
For more information about Club W or the wines listed above, visit their website!
If you'd like to vamp your intimate drawer in preparation for some special date nights, click here!