With all the recent hoopla about statement necklaces (bibs, pendants & chunky ones, just to name a few), little attention has been paid to bracelets, particularly the popular stacking trend. Want to get in on the action? Here are my top tips to start stacking.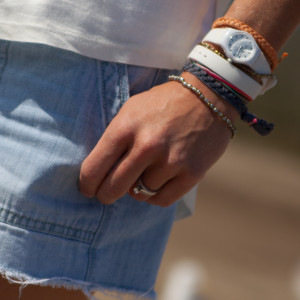 Dress Them Up or Dress Them Down
The beauty of this trend is you can dress it up or dress it down.  Layer some casual bracelets for a daytime look.  For evening, stack some dressier bracelets on your wrist. This look is especially great if you want to keep your neckline bare.
Mix It Up
With stackable bracelet trend, all you have to do is rummage through your jewelry box and threw on some bracelets.  Mix up colors, add a watch, add some modern and vintage pieces. Layer it up!
How To Stack Bracelets for Work
For work, you may want to tone it down a bit.  You can still wear this trend, but if your work environment is a bit more conservative, stick with classic bracelets and watches, perhaps stick to one metal color or wear more refined bracelets.  Also, don't go too crazy! Layered bracelets can get noisy.  Watch the noise factor at the office.  You also may find that tons of bracelets get in the way while typing away on a keyboard (your neighbors might notice it, too…noisy!)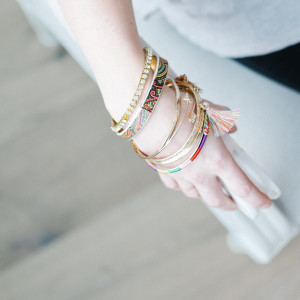 Stack A Little Or A Lot
The beauty of this trend is that you can add or take away as many bracelets as you want, depending on your mood, outfit, and personal style.  If you prefer a minimal look, there's no need to load up your wrist haphazardly with lots of mismatched bracelets, one or two will do just fine. And if you feel like getting a little crazy, go for it.
Mix Metals
Despite the fact that mixing metal colors has been a long debated topic when it comes to bracelets stacking it is totally okay to mix. In fact, it is encouraged.  Layering or stacking jewelry in different metals is a great way to mix different jewelry colors in one outfit.
Don't Forget The Color
It's all about color right now and your bracelets are the perfect place to add some color. Try different materials besides gold and silver, like leather, gemstones, enamel, and more.